Welcome !
Advocating for Active and Retired
State Employees and Educators
The Georgia State Retirees Association (GSRA) is an organization focused on keeping retirees and prospective retirees from all parts of Georgia Government informed about any impacts to promised retiree and health insurance benefits.
Save the Date!   February 5, 2020
Make plans now to attend and participate in GSRA's next big event, GSRA Day at the Capitol February 5, 2020, beginning at the Capitol in the morning and ending in the evening in the Empire Room of the Floyd Building.  It's more important than ever for all of us to get involved and participate toward attaining our goals and preserving the retirement benefits we earned.  These events offer an opportune time to advocate for the best interests of State Employees and Educators, both active and retired.  Look for more information in future GSRA Newsletters and on the GSRA website, www.mygsra.com.
(Photo from 2019 GSRA Day at the Capitol)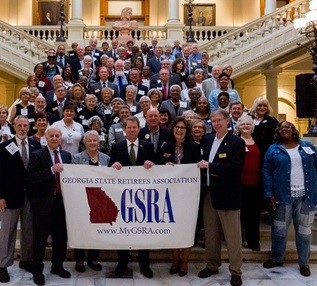 Click here

to see PowerPoint from the 2019 GSRA Annual Meeting at 

Scenic Unicoi State Park & Lodge
2020 Medicare Parts A & B Premiums and Deductibles
 On November 8, 2019, the Centers for Medicare & Medicaid Services (CMS) released the 2020 premiums, deductibles, and coinsurance amounts for the Medicare Part A and Part B programs,  Each year the Medicare premiums, deductibles, and copayment rates are adjusted according to the Social Security Act. For 2020, the Medicare Part B monthly premiums and the annual deductible are higher than the 2019 amounts. The standard monthly premium for Medicare Part B enrollees will be $144.60 for 2020, an increase of $9.10 from $135.50 in 2019. The annual deductible for all Medicare Part B beneficiaries is $198 in 2020, an increase of $13 from the annual deductible of $185 in 2019.  Additional information is available by clicking HERE.
 Silver Sneakers is Not Going Away!
Some GSRA members may have heard a rumor that the Silver Sneakers program is going away in 2020 for UnitedHealthcare Medicare Advantage Plans. While it is true that UHC is discontinuing Silver Sneakers for individual MAP plans, it is not discontinuing the program for group MAP plans, such as the SHBP MAP.
Click here to read State audit reports on ORP and TRS
Click here to read State audit reports on ERS, TRS and ORP 
From Atlanta Journal/Constitution, 04/19/19:
Read the November 2019 Newsletter
The November Newsletter contains a seasonal message from GSRA President Jim Sommerville, info about an ERS Board member retirement, and more.

The GSRA website has reopened the portal for purchasing GSRA Polo Shirts, Safari Hats, and Ball Caps either on-line with a credit card or to mail-in with a check and paper form. Simply 
click on the tab on the left that says "Order GSRA Merchandise", and follow the instructions.