Welcome !
Advocating for Active and Retired
State Employees and Educators
The Georgia State Retirees Association (GSRA) is an organization focused on keeping retirees and prospective retirees from all parts of Georgia Government informed about any impacts to promised retiree and health insurance benefits.
 GSRA DAY AT THE CAPITOL - WEDNESDAY, FEB. 5 
CLICK
HERE
TO REGISTER ONLINE FOR RECEPTION
CLICK HERE TO PRINT AND MAIL RECEPTION REGISTRATION FORM
Gather in the Capitol on the staircase closest to the Governor's Office around 9:30 am for the Photo.  The Governor's staff has not confirmed the time; you will be notified by email as soon as it is confirmed. After the photo, GSRA Member will gather in Room 406 of the CLOB (Coverdale Legislative Office Building) for brief announcements and to pick up the swag bags to deliver to legislators. After visiting Legislators' Offices, lunch will be on your own.  In the afternoon, you may attend any of the House/Senate Committee Meetings – a List will be available of the scheduled meetings. The Reception begins at 5 pm in the Empire Room of the Floyd Building.  Registration is required so register online or mail in the form today!
(Photo from 2019 GSRA Day at the Capitol)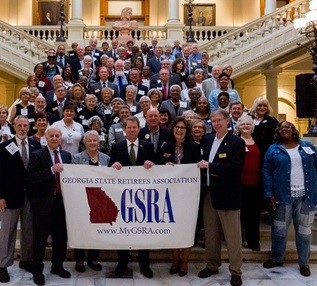 CLICK HERE TO VIEW 1/14 HOUSE RETIREMENT COMMITTEE MEETING ON TRS FUNDING CHANGES
Within video, start at Chuck Martin presentation (1:19:40), then to GSRA Legislative Liason Chuck Freedman presentation at 1:33:45
At this year's first meeting of the House Retirement Committee, Rep. Chuck Martin presented an amended HB 667 for a hearing only (no vote). This bill makes several changes to the Teachers Retirement System which would accelerate paying off that system's unfunded liability which presently stands at 22% -- that is, the fund has 78% of the money necessary to pay off the cost of projected benefits assuming no further payments or investment earnings into the system. The unfunded liability for ERS is about 25%. As reported by Rep. Martin, this summer's actuarial study estimates that his bill would cost about $300 million annually to the retirement system which has had little problems granting annual 3% COLAs to its members. Rep. Martin repeatedly stated that his bill would be necessary at some point to keep promises made to TRS members. But this annual $300 million would almost pay for the 3% annual COLA which was promised to ERS members but which has not been paid for upwards of 12 years. You can view Rep. Martin's presentation and the response by GSRA legislative liaison Chuck Freedman by clicking on the link above, and then positioning your cursor on the faint line at the bottom of the screen. This will result in a time being displayed.  Move the cursor until you see 1:19:40 (the time at which Rep. Martin is called to present his bill). 
Opportunity to Participate in a Study!
Judith Small-Benn-Wright is a present employee of the Department of Revenue and a PhD student with Walden University. For her dissertation entitled "The possible long-term effects of the austerity measures, which were introduced during the Great Recession, on the lives of state public servants.", she is looking for 15 volunteers to respond who were employed from at least 2005 and who retired in 2017 to the present time.  The purpose of the study is to explore the perceived effects of recession-era austerity measures on the PSM of public employees. Such austerity measures include furlough days, the increased costs of non-wage benefits, and merit increase freezes. Links to her "Introductory Letter", "Consent Form" and "Interview Questions" are shown below.  Her email address is: [email protected]
Click here to see PowerPoint from the 2019 GSRA Annual Meeting at Scenic Unicoi State Park & Lodge
2020 Medicare Parts A & B Premiums and Deductibles
 On November 8, 2019, the Centers for Medicare & Medicaid Services (CMS) released the 2020 premiums, deductibles, and coinsurance amounts for the Medicare Part A and Part B programs,  Each year the Medicare premiums, deductibles, and copayment rates are adjusted according to the Social Security Act. For 2020, the Medicare Part B monthly premiums and the annual deductible are higher than the 2019 amounts. The standard monthly premium for Medicare Part B enrollees will be $144.60 for 2020, an increase of $9.10 from $135.50 in 2019. The annual deductible for all Medicare Part B beneficiaries is $198 in 2020, an increase of $13 from the annual deductible of $185 in 2019.  Additional information is available by clicking HERE.
 Silver Sneakers is Not Going Away!
Some GSRA members may have heard a rumor that the Silver Sneakers program is going away in 2020 for UnitedHealthcare Medicare Advantage Plans. While it is true that UHC is discontinuing Silver Sneakers for individual MAP plans, it is not discontinuing the program for group MAP plans, such as the SHBP MAP.
Click here to read State audit reports on ORP and TRS
Click here to read State audit reports on ERS, TRS and ORP 
From Atlanta Journal/Constitution, 04/19/19:
Click HERE to read OP-ED to Atlanta Journal Constitution
by GSRA President Jim Sommerville 
The December Newsletter includes information about the upcoming GSRA Day at the Capitol, Macon/Middle Georgia membership drives, and more.